As food prices rise, CNA traces the entire journey of fish, from sea or farm to the plate, to understand what is driving this increase. Learn out how the fish farmer plays a part to meet Singapore's Fish supply-demand,
The crowds were smaller than usual due to the school holidays, and fish vendors still had some produce, such as sea bass and prawns, to sell. According to fish vendors at the wet market, they can only turn a profit if they sell all of their inventory for the day.
However, they are concerned about more than just the drop in sales. Their operating costs, which have increased due to rising fuel prices, have further impacted their margins by driving up logistics and utility costs.
Prices have increased at some of their fish suppliers as well. As a result of rising operating costs, this follows similar actions taken by fishermen and fish farmers in neighbouring nations. Singapore imports about 90% of the fish it consumes.
Supplier at Jurong Fishery Port has increased the price of sea bass, one of the most common types of fish eaten in Singapore, by about 20 per cent. And if the price continues to go up, Ms Wong will have no choice but to follow suit.
According to the latest data from the consumer price index, the price of fish and seafood in Singapore rose 5.6 per cent year on year in April, up from 5.2 per cent in March. The cost of a kilogram of sea bass increased from S$11.26/kg in March to S$12.40/kg last month.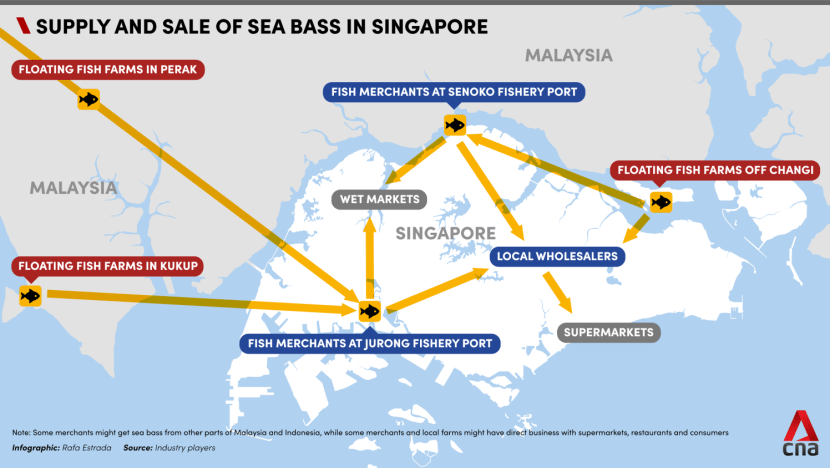 The majority of the 134,000 tonnes of seafood worth S$760 million that Singapore imported in 2020 came from nations like Malaysia and Indonesia. This could either be caught in the sea or raised on farms, depending on the species.
One-off dynamics are responsible for some of the price increases. Players in the industry noted that there has recently been a shortage of fish caught from the sea and attributed this to fishermen in Malaysia and Indonesia being out of work for longer due to the easing of pandemic restrictions that allowed them to observe Hari Raya for a longer period of time in May.
According to Mr. Abdul Hamid Bahari, the chairman of Malaysia's National Fishermen Association, "extreme" weather over the past few months, ranging from warm and hot to stormy with strong winds, prevented fishing vessels from operating.
Unusual weather patterns, likely brought on by climate change, can significantly affect the food production for Singapore. Early this year, Johor's vegetable farmers were dealing with the effects of floods and extreme heat, as well as lower yields and rising costs.
According to Mr. Goh, rising fuel costs brought on by the ongoing conflict in Ukraine have discouraged fishermen from venturing out to sea because they fear incurring losses given the higher costs of operating their vessels.
"If the volume of wild-caught fish is down, the price of farmed fish will go up," he explained.
Rental and utility costs at Jurong Fishery Port have gone up by about 30 per cent to 40 per cent since February. "Of course, this affects the price of our fish," he said. "We need to raise our prices. If not, we cannot make a profit."
Merchants also set their fish prices based on supply and demand, which is another aspect.
He gave the example of the Hari Raya holiday when demand was already high due to low supply, and Mother's Day a few days later.
"As a result, there was a huge demand for fish but a very small supply. Prices at that time spiked wildly for a while, "He stated that his logistics expenses have also increased.
"I believe that fish farmers (abroad) would increase the price of bred fish – even if they have enough supply – for more profits once the supply of wild-caught fish drops,"
Local fish farms are impacted by increasing costs too, Mr Timothy Ng, who runs a fish farm off the north-western coast of Pulau Ubin, said he too is facing rising operating costs, including in utilities, manpower, logistics and maintenance.
How to comprehend why fish prices are increasing.
It's The Fish Farmer, a blessing that we have direct business with supermarkets, eateries, and food service providers in addition to selling to neighbourhood wholesalers. Selling "value-added" goods, such as sea bass prepared in Teochew or Thai style, has helped him achieve this.
The Fish Farmer has value-added services, so we can charge a little bit more," he said, adding that restaurants are short-handed and might have special requests for fish, including, for instance, buying fillets of a certain size while also needing the fish's head.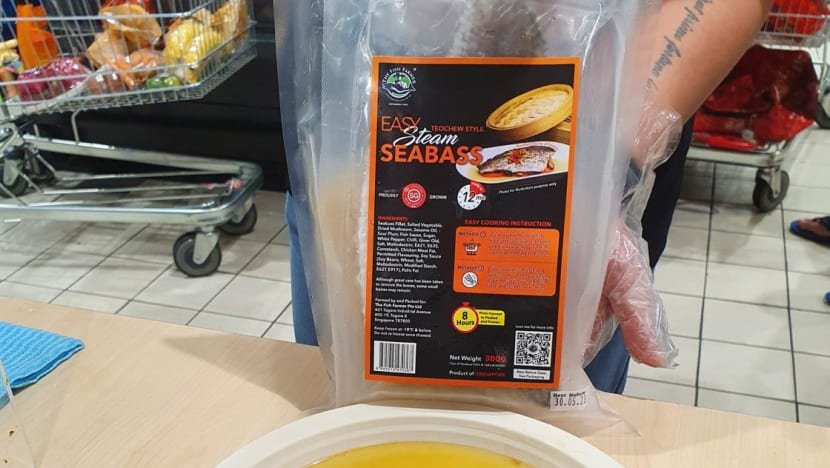 Our CEO Mr Ong is also confident that locally farmed sea bass, while darker in appearance, is as good as the ones from Kukup "if not better".
Many years ago, a lot of the sea bass consumed in Singapore had a "muddy taste" as they came from land-based farms, Mr Ong explained.
"Kukup sea bass was raised in seawater farms, so they enjoyed that advantage (of being tastier). But this advantage is no more because a lot of the fish farms here are seawater farms," he said, adding that the Government is also very strict about environmental and food safety standards.