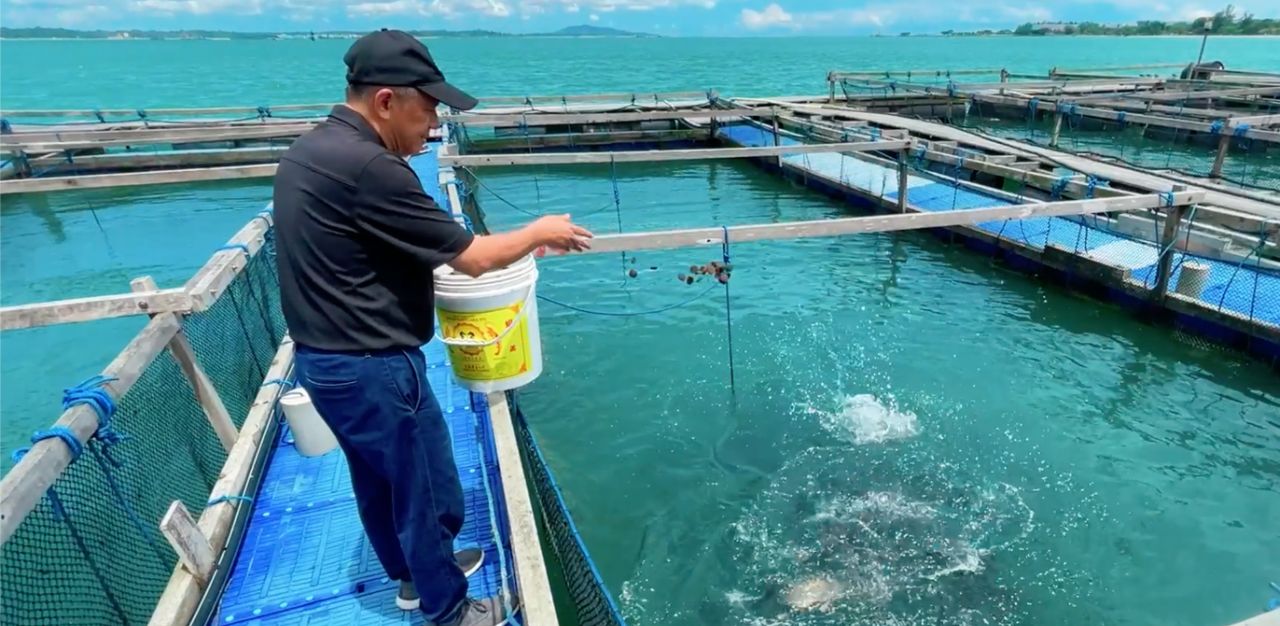 Our Produce
Farmed in Singapore, all fishes are naturally grown, without any growth enhancements.
The Freshest. Locally Grown and harvest
We provide fresh, safe & sustainable fish to the local market. Hotels, restaurants, you name it, We can supply you with the freshest seafood that you required, free feel to contact us for any wholesale inquiry.
For all our fishes, we can curate it to your preference.
Styles: Whole, cleaned and gutted, butterfly cut (For Seabass & Red Snapper Only), fillet, portion cut, fresh or frozen)
01. Red Snapper
Scientific Name: Lutjanus Malabaricus
Fries Origin: Singapore & Malaysia
Red Snapper is a genus of the snapper family and has red skin with pinkish tinge meat with a firm texture and nutty and mildly sweet flavour. They can be grilled, baked and pan-fried to suit your recipes and is a good source of Vitamins B6 and 12, D & E, as well as minerals like Magnesium and Selenium.
02. Barramundi (SeaWater Sea Bass)
Scientific Name : Lates Calcarifer
Origin: Singapore & Indonesia
The Barramundi is commonly known locally as the Asian sea bass and Jin Mu Ru (金目鲈). It is a premium white fish with a sweet, buttery, delicate, and moist flavour profile that has been compared to red snapper, dover sole, and other premium white fishes. This fish is high in Omega-3 content, and low in fat. It is thus healthy, versatile, and a popular choice in Western, Chinese and Japanese cuisine!
03. Grey Mullet
Scientific Name: Mugil Cephalus (also known as Wū yú 乌鱼)
Origin: Taiwan & Philipines
Our Grey Mullet is farmed in Singapore, off the coast of Lim Chu Kang. The Grey Mullet has grey meat with a medium to firm texture and has a rich, distinctive favour with meat that is succulent and flakes easily after cooking. It can be prepared in many ways ranging from steaming, grilling and pan-frying.
The Grey Mullet is an oil-rich fish that is high in omega-3 fatty acids and vitamins B6 and Niacin, as well as Selenium.
04. Milk Fish (Bangus)
Scientific Name : Chanos chano
Fries Origin: Indonesia & Philipines
The milkfish is known as Bangus in the Philippines and is their National fish. It is an inexpensive fish and is mostly grilled or pan-fried and has firm and mildly sweet flesh. In Taiwan, having milkfish (also known as 虱目魚 in Mandarin) for their meals is a daily affair. Their love for milkfish has spawned dishes such as milkfish porridge and snacks.
The Milkfish is rich in Vitamins B6 and 12, Niacin, Phosphorus and Selenium. Similar to other oily fish e.g. sardines and salmon, milkfish is also rich in omega-3 fatty acids, eicosapentaenoic acid (EPA) and docosahexaenoic acid (DHA) – "nutrients" for the brain. Always choose The Fish Farmer Milk Fish that have lustrous skin and firm flesh to the touch.
05. Golden Pomfret
Scientific Name : Trachinotus Blochii
Fries Origin: Taiwan & China
A fish with tiny scales and firm sweet flesh, the Golden Pomfret can be prepared in many ways, such as steaming, grilling and pan-frying. A popular local example is the Teochew-style Steamed Pomfret. The complex flavour of this local dish goes very well with our Golden Pomfret.
This fish is low in sodium and high in omega-3 fatty acids, Vitamins B12 and D, as well as minerals such as Selenium, Potassium and Phosphorus.
06. Pearl Grouper
Scientific Name: Epinephelinae
Fries Origin: Singapore & Malaysia
Pearl Grouper is also commonly known as hybrid grouper (龙虎班, Long Hu Ban)
The Pearl Grouper is a cross between a male Giant Grouper and a female Tiger Grouper.
It is a highly valued seafood dish for many Singaporeans due to its firm and tender flesh
07. Japanese Sea Perch
Scientific Name: Lateolabrax Japonicus
Fries Origin: Taiwan
The SeaPerch is a silver/golden colour fish and has a delicate flavour with a medium texture. The flesh is white, lean, moist and flaky, making it suitable for most Chinese-style steam fish.
Fish farming is similar to growing trees. We can't keep cutting down trees; we have to replant trees to sustain the forest. Similarly, we can't keep catching fish; we have to farm fish to sustain our oceans.
Malcolm Ong